POS Systems
Point of sale systems can be a very powerful way to increase your customer satisfaction and business performance. With a pos system, you can easily track sales, inventory, employee work hours and more! What's best is that you can lease to own POS systems here at alliancebundle.com with the most flexible offers like no others!
Lease to Own your Point of Sale system for $75 per month. Includes: Hardware, Software, Menu integration, Installation, On-Site Training & 24/7 tech support. Merchant Services are available, but, NEVER mandatory!
Call us at 1-888-405-8706 now or fill out the contact form for more information.
100% Touch Operated Point of Sale
Modern & Intuitive Point of Sale User Interfaces
User Controlled Button Styles and Colors
Complete Control of Seating Management & Operations
Full Feature of Inventory & Back Office Managment
Multilingual User Interface Support Out of the Box (English / Spanish / Chinese)
Supports Dual Language Menu Input and Handling
Fully Compatible with Windows XP Pro, Vista, Win 7, and Server 2003 & 2008
Works Great on Both 32 Bit and 64 Bit Windows Operating Systems
Behind the Scene Operations Logging To Ease Store Operators Security Concerns
Easy to use graphical order entry screen
Flexible Kitchen & Prep Station print routing
Menu Item Ordering Achieved With Just One Click
Effortlessly Split and Combine checks
Automated Menu Item Tag Along Supports Combo Meals
Easily Hold and Fire Orders
Specialized Pizza Builder Makes Pizza Ordering a Breeze
Specialized Forced Modifiers Ensure Fast Item Completion
Integrated Weight Scale Support Enhances Productivity
Searchable Bar Tabs for Higher Efficiency
POS Designed Specifically For Table Service, Quick Service & Bar Operations
Dine-In, Take-Out, Drive-Thru, Delivery all supported
Graphical Table Management
Seated Guest Count Displayed in Table View Screen
Reservations and Waiting List Management
Clearly View the Status of Delivery Orders On Route
Easily Dispatch Drivers For Delivery Orders in Queue
MapPoint Integration Support For Simplified Visual Map and Turn By Turn Instructions
Support For Delivery Driver Timing Tracking
Handles Driver Money Drop and Compensation
Full Cashier Support To Ensure Every Penny is Accounted For
Staff Banking Capability To Support Fine Dining Operations
Pay Out Feature That Simplifies Out of Register Expenses
Cashier Liability Report and Shift End Report Enhances Accountability
Multiple Payment Tender Types Supported
Integrated Payment Processing through Aldelo EDC Supported
Simple To Use Customer Profile and Order History Tracking
In Store Credit Creation, Redemption and Balance Tracking
In Store Gift Card Creation, Redemption and Balance Tracking
In Store Frequent Buyer Program Tracking and Rewards
In Store House Charge Account Tracking and Payments
In Store Customer Incident Tracking
Fully Integrated Employee Time Card Tracking System
Easy To Manage Employee Work Schedules
Quick and Easy Employee Payroll Preparation Report
Productive Staff Communication via Local Messaging and Text Pagers
Complete Inventory Management Capabilities Out of the Box
Complete Recipe Management Capabilities Out of the Box
Automatic Purchase Order Creation Based On Inventory Levels
Detailed Inventory Reports To Help Identify Costs and Increase Bottom Line
Support For Physical Inventory Counts
Support For Inventory Receiving Verification Work Flow
Detailed Sales and Operations Reports Provided
Detailed Financial Accountability Reports Provided
Detailed Customer, Employee & Inventory Reports Provided
System Integration SDK Allows ISV to Build Bi-Directional Value Added Solutions
TCP Packet Notification SDK Allows ISV to Build Solutions That React To POS Events
Folio Payment SDK Allows Hotel Solutions to Provide Room Charge Inquire and Posting Links
Order Finalization SDK Allows ISV to Extend Order Settlement and Fiscal Tracking Needs
PA-DSS Validation Helps Merchants Comply with PCI Regulations
NTEP Weight Scale Certification Ensures Compliance with State Laws
Windows 7 Compatibility Validation Ensures Proper Operation
Point of Sale
Seating Management
Delivery and Routing
Financial Accountability
Customer Management
Workforce Management
Inventory and Recipes
Extensive Reporting
Third Party Extensibility
Industry Certifications and Validations
No two businesses are the same. Use our POS Builder to customize your company's point of sale solution
We offer custom "Bundle & Save Today!" package deals for POS system, digital menu board, and CCTV systems. All on one easy payment plan with OPTIONAL merchant services and backed by 24/7 support.
Recent Blog Posts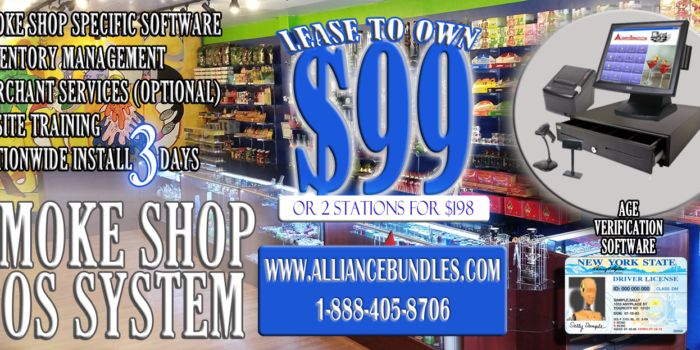 The times where smoke shops were looked down upon and marketing was…