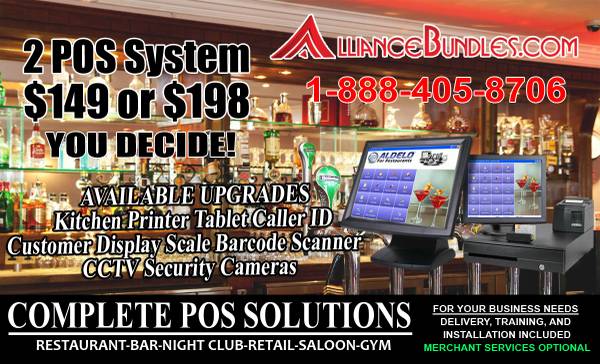 Complete 2 station bundle.
Merchant Services Optional!!
Complete 2 station bundle with Bar Printer or Kitchen ALL NEW Equipment with Full warranty Entire Term. Choose from $198 or $149 lease to own option.
Bundle includes ALL hardware, Software and on-site installation, Training & Support
24/7 Support included!!
Choose your POS Software!!
Xera, Aldelo, Dinerware, PointOS, pcAmerca, KreaTek & Many more to choose from
Call for a demo.
Call 1-888-405-8706
Come Checkout our showroom on 192.
add and iPad for only $59 more (table side orders)
Complete Bundle includes:
Qty 2: New Touch Screen Monitor with Quad Core PC All-in-One Units 4GB Ram & Windows
Qty 2: New Manager / Merchant Swiper
Qty 2: New Thermal Receipt Printer
Qty 1: New Heavy Duty Steel Cash Drawer
Qty 2: New Software of your choice
Complete menu Integration included.
POS* Restaurant Equipment
Lease to Own. $149 for existing businesses $198 for NEW Start-Ups